Teluk Nare to Senggigi
Sengiggi is one of the most popular areas on Lombok with its ideal location on the west coast making it very accessible to the surrounding islands. Each year Senggigi attracts many tourists wanting to explore Lombok and all it has to offer, especially the impressive Mount Rinjani in the north, Senggigi in the west and Kuta in the south. Senggigi offers travellers many great activities including: diving, snorkelling, nice beaches and private tours. From Teluk Nare Harbour you can take private land transfer or taxi to Senggigi, however taxis can sometimes be unreliable especially when it comes to the cost of the fare. By booking a private land transfer from Teluk Nare to Senggigi with www.gili-islandtransfers.com you know exactly how much you'll be paying with no hidden costs or fees. Teluk Nare is only 40 minutes' drive (depending on traffic) from Senggigi. The transfers are available all day long from 5am till midnight. Senggigi is located only 90 minutes away from Lombok International Airport, which connect flights between Bali and other Indonesian territories.
So if you are staying in the Gili's and thinking of continuing your travels in Lombok you can book a speedboat here at the top of this page. The crossing time from the Gili Islands to Teluk Nare is only 5-10 minutes depending on the sea conditions. You can book a speedboat and private land transfer to and from the Gili Islands and Lombok by simply filling in the search box above. Senggigi i offers a change of pace when compared to, for instance, Bali. Senggigi is considered to be much more quiet in contrast with Bali's popular areas like Kuta, Semiyak etc. Despite that, Senggigi offers travelers some good places to eat, drink and stay. The position of Senggigi will allow you to access Gili Islands easily. From Senggigi Harbor you can also take a direct boat to Bali or take a transfer by land to Teluk Nare to visit the Gili Islands.
As Senggigi is quite close to Lombok Airport it is also a good place to stay before or after a flight. Simply use the search box to book your transfer from Senggigi to the Gili Islands or from Teluk Nare to the Gili's.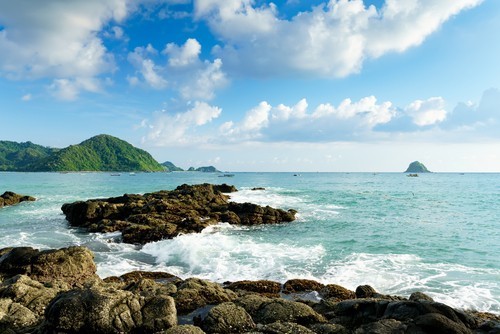 Travel distance from Teluk Nare to Senggigi by car
| Arrival point: | Teluk Nara | Senggigi |
| --- | --- | --- |
| Departure point: | Travel Time: | Travel Time: |
| Teluk Nara | x | 40 mins |
| Senggigi | 40 mins | x |