How to Book
Simply use the search box above to check availability, prices and to book. NOTE: Online bookings cannot be made less than 24 hours from departure. You will receive immediate e-tickets once you have completed the quick and easy booking process. The transfer company you have booked will also send you an extra confirmation. To see more detailed info about each transfer service, take a look at the individual Inter Island Transfer pages. We hope you have a great trip!
Speed boat from Lombok to Gili
We offer speed boat transfer services from Lombok to the Gili Islands. Most of our featured boats depart from Teluk Nare or Bangsal harbour and can be booked along with a road transfer. For scheduled fast boat services departing Senggigi, as well as service to Bali and Lembongan, head over to www.Gilibookings.com.
Services can be booked to depart throughout the day, simply select your preferred departure time during the booking process. You can find more information about the service you want to book both from gthe results and during the booking process.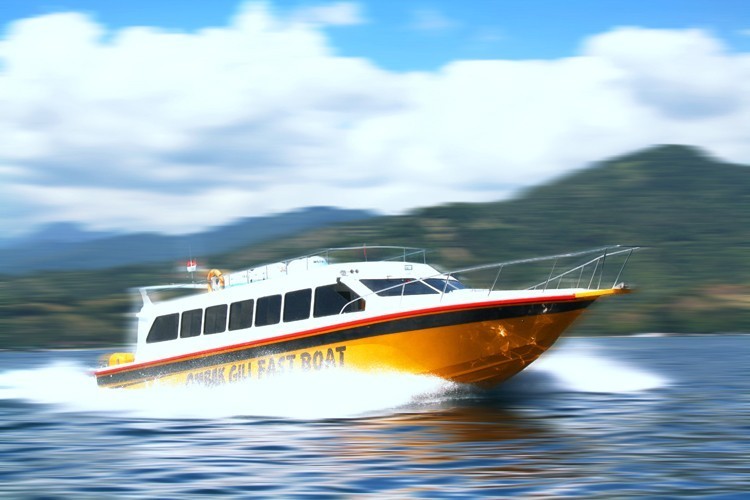 Lombok airport transfers
Whether you are going to Lombok international airport or want to arrange a pickup and transfer from Lombok airport to the Gili Islands just use the search box above to check availability, prices and make a booking. Transfers are also available from/to selected other areas around the island.
Note: The Gili Islands are free of motorized traffic, so pickup/drop services to your hotel on Gili Trawangan, Gili Meno or Gili Air are unavailable. Most distances can easily be walked, otherwise you can rent a bike or use a local horse cart.
Any further questions? Check out our FAQ below for all common issues and info on our cancellation policy, terms & conditions. If you want to know what the Gili Islands and Lombok have to offer, take a look at the excellent travel tips on our sister site.
How do I book a transfer?
Simply use the search box at the top of this page, fill in the details, click ´Search´ and results will appear. You will be able to see which boats are available, how much they cost, etc. Then just click ´Book´ and follow the booking process. It is quick and easy, you can pay by credit card or with your paypal account, and you will receive immediate e-tickets.
Do I receive e-tickets?
Yes, as soon as you have completed the booking process you will receive email notification confirming the details of your booking from [email protected] and your e-tickets are in an attachment. If you do not receive this email within a few minutes please login to your email provider and check your Spam/Junk folders. Please then mark our email as Safe/Not Junk.
Can I book a fast boat from Bali to Gili?
Yes, but his can also only be booked on www.gilibookings.com or www.gilitickets.com.
How can I make a booking?
Bookings can be made online 24 hours a day. Transfers must be made 24 hours before departure time. Simply fill in the information in the search box at the top of the page to book a transfer.
Do I get charged a booking fee?
No, we absorb all payment fees, for all transfers full payment is required to secure the booking, this is also refundable, see cancellation information in Terms and Conditions.
Is there a time limit on when I can make a reservation?
No, you have the option of booking a transfer up to a year in advance but we would not recommend leaving bookings to the last minute.
Why should I book a transfer with Gili-Islandtransfers.com?
We work with some of the best budget speed boat companies from Lombok to the Gilis, boasting some of the cheapest online rates and immediate confirmation. Bookings are quick and easy.
Confirmation of my transfer reservation
What happens when I make a reservation?
When you complete the booking you will receive your e-ticket confirmation. At the same time an email is sent to us and to the transfer company you have booked. They will then send you a second confirmation so that we know they have received the booking.
How long does confirmation take?
Confirmation of your booking is instant when booking online. You will receive and email confirming all your booking details. This email should be with you within 10 minutes of making a reservation.
What should I do if don't receive an email confirmation of my booking?
Check your junk mail. If it´s not in there and you have not received email confirmation please contact us at [email protected] giving us all the details so that we can investigate. Provide us with your name and date of travel and we will be able to resend your booking confirmation email to you.
Changing or cancelling a reservation
Can I change the dates of my tickets?
Yes, when you make a booking you will receive immediate confirmation and e-tickets. On your e-tickets is a contact email address and phone number for the transfer company you have booked. Simply email your preferred dates no later than 24hrs before departure and the changes will be made at no extra charge (this is subject to availability).
Can I cancel my tickets?
Yes, you can cancel your tickets but the cancellation policy applies. All bookings cancelled more than 2 weeks from the date of travel will receive a full refund. Cancellations less than 2 weeks but more than 48 hours from the date of travel will receive a 50% refund. Cancellations received less than 48 hours from the date of travel will receive no refund.
I made a booking, what do I do if I wish to cancel/amend my booking?
Simply contact the company directly to make the necessary changes. The contact information is on the e-tickets you received when you made the booking. All changes to dates will be subject to availability. In the event of a cancellation please copy the email you send to the transfer company to [email protected] so we can process your refund.
Prices and payment for my reservation
Do I make payment with you or with the Transfer company?
For all transfers you pay the total price of the ticket when you book it. This is refundable if you cancel more than 2 weeks from the departure date. See cancellation policy for more info.
What currency will I have to pay in?
The currency you pay is US$.
How do you calculate exchange rates?
Due to the fluctuating nature of currency exchange we are unable to quote a specific exchange rate. To find out the current exchange rate, we recommend that you check with your bank or a foreign exchange agent however these differ day to day
What cards are accepted to secure my reservation?
All leading credit/ debit cards including Visa, MasterCard and American Express
Are taxes included in the rate?
Yes
Why do the prices differ by day or from the last time I checked the website?
Gili-islandtransfers.com is all about getting our customers the best price, as exchange rates vary so do our prices. Prices can fluctuate at anytime, even right up to the moment of your trip. However, the price you have booked is always the price you will pay.
Do you charge a credit/debit card fee?
No. We do not charge any extra fees when you make a booking
Do I need a Paypal account to pay?
No, Paypal is just the payment provider, you can pay with a credit card, when you reach paypal just look for the link that says ' Do not have a paypal account ', or ' Pay with a card'.
Website security & privacy
How do I know your site is secure?
Once you have booked through Gili-islanstransfers.com, your details are stored on our secure server, which cannot be accessed by anyone external to our company. These details are protected by the latest SSL (Secure Socket Layer) technology, which is independently certified by Global sign. The hotel booking side of our website is powered by www.booking.com and www.agoda.com , see their Terms and Conditions, Privacy Statement, and FAQ.
What do you do with my personal information?
For all transfers your details will be passed to the transfer company. Your card details will be securely dealt with by Paypal. Any information entered into the online booking page is securely encrypted and protects your personal information from being tampered with. We will keep your card details on file indefinitely after you have made a reservation. This is to assist in any customer service issues that may arise and to ensure that we meet any legal requirements relating to tax, etc.
Do you offer airport transfers?
Yes, just use the search box on our home page to check prices and make a booking.
How do I leave feedback about the Gili-islandtransfers.com site?
We would really appreciate any comments/ feedback you have on the Gili-islandtransfers.com site - just email us at [email protected] to give us any feedback you have.
How do I report a technical issue?
If you experience any problems please let us know and we will try and fix the issue straight away. Send us an email to [email protected]