Senggigi to Gili Trawangan
Gili Trawangan is the largest (but still tiny!) and most developed of the three Gili Islands. This tropical playground also known as Gili T attracts many tourists from all around the world wanting to have fun, party, dive and enjoy the amazing beaches. Located only 10 minutes away by a speed boat from Lombok or around 30 minutes if you take a public boat. The quickest and easiest way to access Gili T is from Teluk Nare harbor on Lombok.
The island has something to offer all kinds of travelers from couples to families, large groups and backpackers. Gili Trawangan has a wide variety of accommodation options to suit every budget and style, from luxury villas to budget hostels. A surprising range of excellent food and drinks are availble in the restaurants on Gili Trawangan, rivalling even Bali for a place this size.
Even though Gili T is the busiest of the Gili's it still has a very laid-back vibe especially during the day when most people are relaxing on the beach or diving. But after sunset the party begins and the island comes to life. If you are seeking a more quiet and relaxed area then head to the west or the northern part of the island. This island is the best place to dive, snorkel, party on a boat, do yoga, enjoy water sports and stay fit. Gili T offers travelers many great places to eat, drink and party until the sun comes up.
It is also recommended to explore the neighbouring islands of Gili Meno and Gili Air, both just minutes away by speed boat. Gili Meno is the perfect escape from crowds, popular with honeymoonsers and families. Gili Air is a great mix of laid back island life and good accommodation and facilities - plus unforgettable sunries over the sea towards looming Mt. Rinjani on Lombok. Simply make a search on our website to see what is available and book.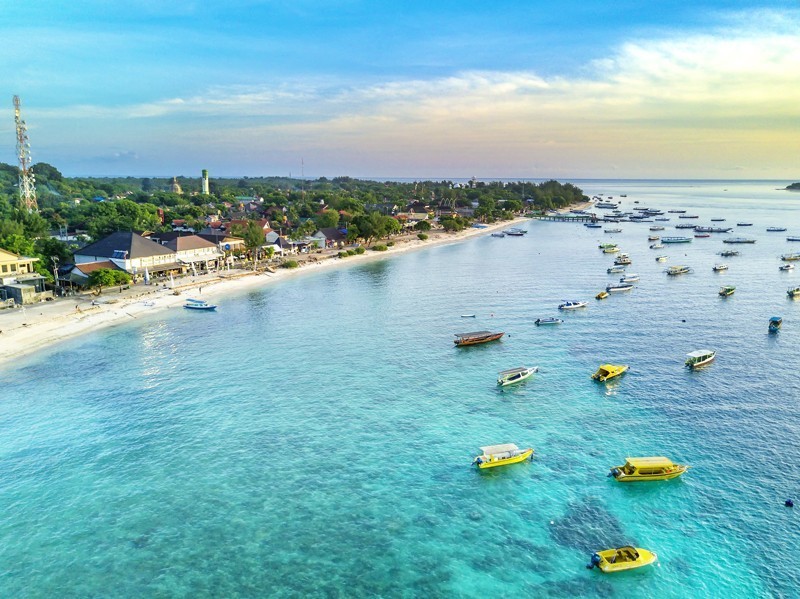 So if you are staying in Senggigi and you'd like to visit Gili T you can either catch a fast boat from Senggigi jetty (limited options and more time at sea), take the cheap local boat from Bangsal or you can book a private transfer from Teluk Nare with us. Be cautious if leaving from Bangsal as the area is known for hawkers and scammers and can be quite a hassle.
We reccommend that you pre-book a private car and speed boat transfer to the Gili's to save you time and worry. The driver will pick you from your hotel in Senggigi, take you to Teluk Nare harbor and from there it only takes 10 minutes to reach Gili Trawangan. The closest port to Senggigi is Teluk Nare, where private boats operate between the Gili Islands and Lombok. Do not miss the opportunity to visit Gili T, to book use the search box on the top of this page.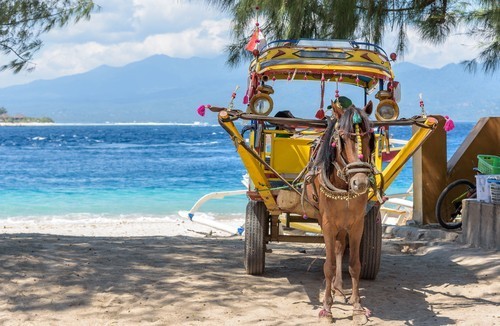 Travel distance from Senggigi to Gili Trawangan by car and speed boat
Arrival
point:

Gili Air

Gili Meno
Gili T
Senggigi

Departure
point:

Travel
Time:

Travel
Time:

Travel
Time:

Travel
Time:
Gili Air
x
x

x

45 mins

Gili Meno

x
x
x
50 mins
Gili T
x

x

x
50 mins

Senggigi

45 mins
50 mins
50 mins
x