Senggigi to Gili Meno
Gili Meno is the smallest and most remote island of the Gili Islands. This gorgeous island is less busy than Gili T or Gili Air. If you are on Lombok, you can get a public slow boat from Bangsal or a fast boat from Senggigi. However, be careful as there are a lot of hawkers and scammers at Bangsal harbor. In this case, it is highly recommended to pre-book a private speedboat from Teluk Nare harbor using the search box above.
If you are staying in Senggigi, you can book a private land transfer to Teluk Nare from where a private speedboat will take you to Gili Meno. It will take less than an hour from Senggigi to access Gili Meno. Alternatively you can book a fast boat from Senggigi jetty to the Gili Islands, however, none are direct to Gili Meno. There are a few boat companies from Bali that stop in Senggigi before heading to the Gili Islands. These can be booked at www.gilibookings.com or www.gilitickets.com.
The journey time from Senggigi to Gili Meno is around 50 minutes. If you are looking for transfers from Gili Meno to Gili Trawangan, Gili Air or Lombok, simply perform a search on the website and book your private transfer. Gili Meno is the ideal place if you are looking for a chilled holiday and for those wanting to experience the true local culture or just simply enjoy the gorgeous turquoise waters swimming and snorkeling right off the beach.
With some light entertainment, good food and some great accommodation places, this little slice of tropical heaven is the perfect place to spend your holiday. On this website you can make a booking to Gili Meno from Senggigi simply by entering your details in the search box. Choose your preferred time and amount of people and press search and the results of your trip will show up in. Book your transfer between Lombok and the Gili Islands now through the search box above.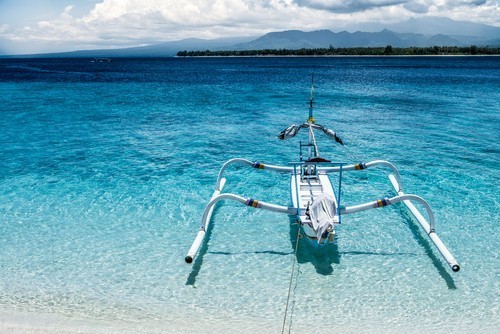 Travel distance from Senggigi to Gili Meno by car and speed boat
Arrival
point:

Gili Air

Gili Meno
Gili T
Senggigi

Departure
point:

Travel
Time:

Travel
Time:

Travel
Time:

Travel
Time:
Gili Air
x
x

x

45 mins

Gili Meno

x
x
x
45 mins
Gili T
x

x

x
50 mins

Senggigi

45 mins
45 mins
50 mins
x