Senggigi to Gili Islands
Most travellers staying in Senggigi, Lombok generally head over to explore the neighbouring Gili Islands before or aftwerwards. From Senggigi travellers can take a fast boat to one of the Gili Islands. There are a few boat companies that stop in Sengiggi before continuing on to the Gili's. However, not all of them offere separte tickets for this and the best way to acesss the Gili Islands is from Teluk Nare Harbor, here you can take a speed boat and reach the islands in just 10 minutes. The Gili Islands consist of three small islands; Gili Trawangan, Gili Meno and Gili Air which are sometimes described as the jewels of the ocean. You can expect to enjoy a more peaceful vacation as there are no motorized vehicles or cars on any of the Gili Islands. Gili Trawangan is known as a party island with many great places to eat, drink and have fun, while Gili Meno is the smallest also the quietest of the three attracting mainly honeymooners and families.
Gili Air blends Gili T's lively atmosphere with Meno's peaceful vibe making it the balanced choice. If you are planning to visit the Gili Islands, simply use the search box above to book your transfer from Senggigi to the Gili Islands. Once you have made your booking, you will receive your tickets immediately. Whether your hotel is located in Senggigi or other popular areas on Lombok, you can easily book a private car transfer and speed boat combo from Lombok to the Gili islands. Senggigi is located only 45 minutes away from Teluk Nare. From Teluk Nare it will take you only 5-10 minutes to reach any of the Gili Islands.
The Gili Islands offer travelers many exciting activities such as snorkeling, diving, surfing, SUP, or pamper treatments. Each island offers travelers a unique experience. So what are you waiting for? Book your transfer today to the magnificient Gili Islands.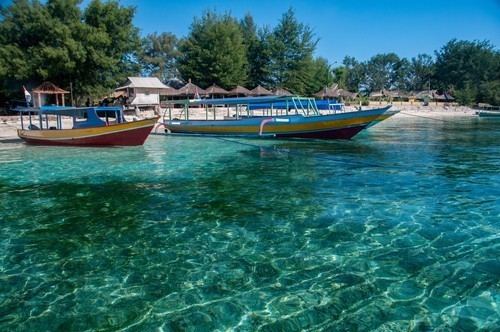 Travel distance from Senggigi to Gili Islands by car and speed boat
Arrival
point:

Gili Air

Gili Meno
Gili T
Senggigi

Departure
point:

Travel
Time:

Travel
Time:

Travel
Time:

Travel
Time:
Gili Air
x
x

x

45 mins

Gili Meno

x
x
x
45 mins
Gili T
x

x

x
50 mins

Senggigi

45 mins
45 mins
50 mins
x