Senggigi to Gili Air
Gili Air is the closest island of all the Gili islands to Lombok making a trip from Senggigi very easy. Gili Air has goregous beaches and the most spectacular sunrises especially with Lombok's Mountain Rinjani in the background. You can find many great places to stay to suit all budgets and a nice selection of bars and restaurants. Once you are on Gili Air, you can also visit the neighboring islands such as Gili Trawangan, Gili Meno or Lombok. Gili Air is located only 10-15 minutes away by a speedboat from all of them, so you can reach them with ease.
Gili Air has a quiet nightlife, however, you will definitely find a nice place to spend your evening with a cold drink and some entertainment. This is a great option for families or backpackers who want to escape the crowds. You will also find many great activities on Gili Air including snorkeling, diving, kitesurfing and other watersports. Day trips can easily be arranged from Gili Air to Gili Trawangan, Gili Meno or if you're planning to return to Lombok by booking a small private speedboat and land transfer with us.
There are fast boats arriving daily from Bali that stop in Senggigi before continuing on to the Gili Islands but departure times are limited and not all services sell a seperate ticket from Lombok to Gili. Another way is to catch a cheap local boat from Bangsal harbor in north Lombok, however, these services usualy only leave once full so you could be waiting awhile. Also the Bangsal area is known to have many touts trying to take advantage of tourists so be cautious. The best recommended route and most flexible option is from Teluk Nare as you can book a speedboat which will take you only 5-10 minutes. Your total journey time will take only around 45 minutes from Senggigi to Gili Air (traffic dependant - though the Senggigi coastal road is usually free of conjestion). Book your transfer to Gili Air from anywhere in Senggigi now through the search box above. We'll send you immediate e-tickets and the local transfer company will email you confirming any further details.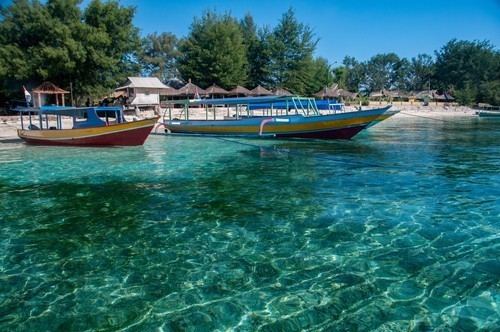 Travel distance from Senggigi to Gili Air by car and speed boat
Arrival
point:

Gili Air

Gili Meno
Gili T
Senggigi

Departure
point:

Travel
Time:

Travel
Time:

Travel
Time:

Travel
Time:
Gili Air
x
x

x

45 mins

Gili Meno

x
x
x
45 mins
Gili T
x

x

x
50 mins

Senggigi

45 mins
45 mins
50 mins
x