Mataram to Gili Islands
Mataram is one of the largest provinces on Lombok. This province consists of three main cities called Mataram, Cakranegara and Ampenan. Mataram is not a very popular destination among tourists, however, travelers pass through. From Mataram you can easily access all the Gili Islands such as Gili Trawangan, Gili Air and Gili Meno. The Gili Islands offer loads of great places to eat, drink and party. Discover the best island activities and things to do. Wherever your hotel is located in Mataram or on the Gili Islands, you can easily book your transfer through this website. The quickest way to reach the Gili Islands is through the Teluk Nare harbor. From there you can take a private speedboat and reach Gili Air in less than 15 minutes. From Teluk Nare transfers are available to all the Gili Islands such as Gili Meno, Gili Air and Gili Trawagan. The speed boat transfer from Teluk Nare to Gili Trawagan or Gili Meno takes only 10 minutes. The land transfer from Mataram hotels usually takes around 60 minutes.
If you like a busy nightlife, you should go to Gili Trawangan, the island is known as the best party place. When it comes to the nightlife, Gili T has many cool bars and nightclubs. If you want to avoid the party scene altogether, then you should head to Gili Meno. If you want to go from Mataram to Gili Air, Gili Meno or Gili T you can book a private speedboat transfer from Lombok to the Gili Islands. Transfers are available daily from 5 am till midnight. All you need to do is to perform a search on the website here: www.gili-islandtransfers.com. Simply select your location, destination and the date. After the secure payment you will get your e-tickets.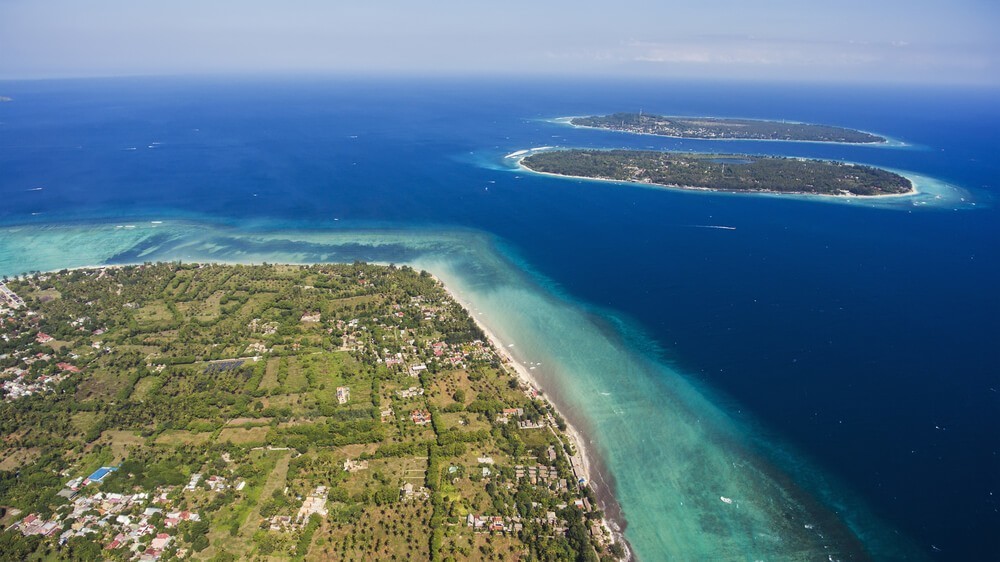 Travel distance from Mataram to Gili Islands by car and speed boat
Arrival
point:

Gili Air

Gili Meno
Gili T
Mataram

Departure
point:

Travel
Time:

Travel
Time:

Travel
Time:

Travel
Time:
Gili Air
x
5 mins

10 mins

1h 30 mins

Gili Meno

5 mins
x
5 mins
1h 30 mins
Gili T
10 mins

5 mins

x
1h 35 mins

Mataram

1h 30 mins
1h 30 mins
1h 35 mins
x