Lombok Airport to Gili Islands
Booking your trip from Lombok International Airport to the Gili's has never been easier now that Gili Island Transfers offers car and speed boat packages to the Gili's. To book your trip from Lombok Airport to the Gili's simply use the search box above enter in your location as Lombok Airport, your destination in the Gili's (Trawangan, Meno or Air), add the number of passengers, preferred dates & times, then click search. From the results that appear, select the option that best suits you. Once payment is confirmed an immediate email will be sent to you with your e-tickets attached and all trip details, it's that easy!
Lombok Airport is in the southeast area on Lombok Island, 35 kilometres from Mataram City and 48 kilometres from Senggigi the most popular tourist spot on Lombok. To reach the Gili's from Lombok Airport you need to first get to either Senggigi, Bangsal Harbour or Teluk Nare Harbour as these are the three ports to take a speed boat or ferry across to the Gili's.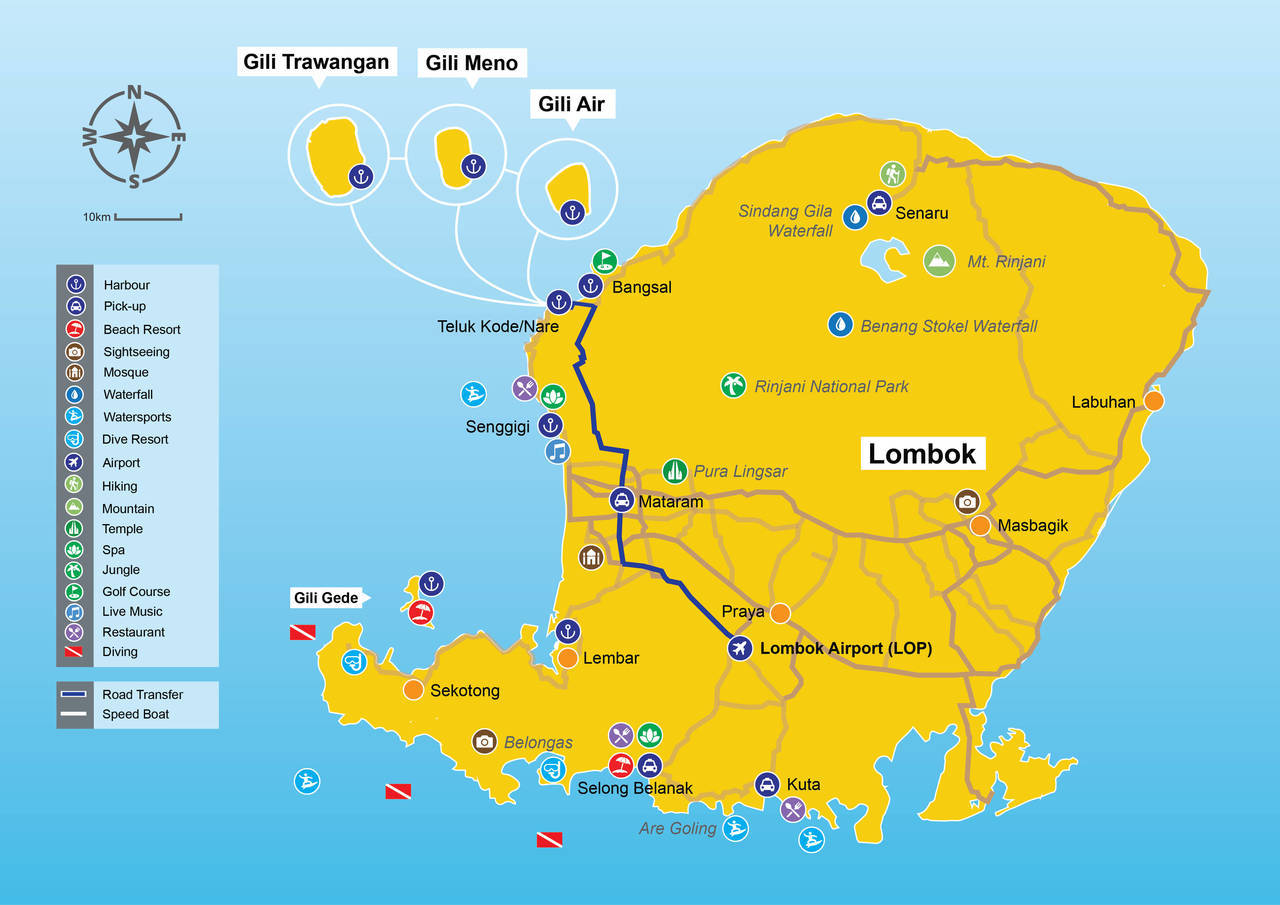 From Sengggi you can take a fast boat coming from Bali that stops quickly to unload passengers before continuing to the Gili's. There are two daily departures leaving from Senggigi, both depart before 13:00pm. To book these tickets visit www.gilibookings.com.
At Bangsal Harbour there is a cheap local ferry that departs several times a day, however please note the ferry waits until it is full before leaving so you could be waiting awhile. Another thing to bear in mind are the many hawkers hanging around this area trying to scam the tourists if you decide to take this route. Be sure to only purchase tickets for the ferry from the actual harbour office as many of these scammers try to convince you to buy tickets from them at a much greater price.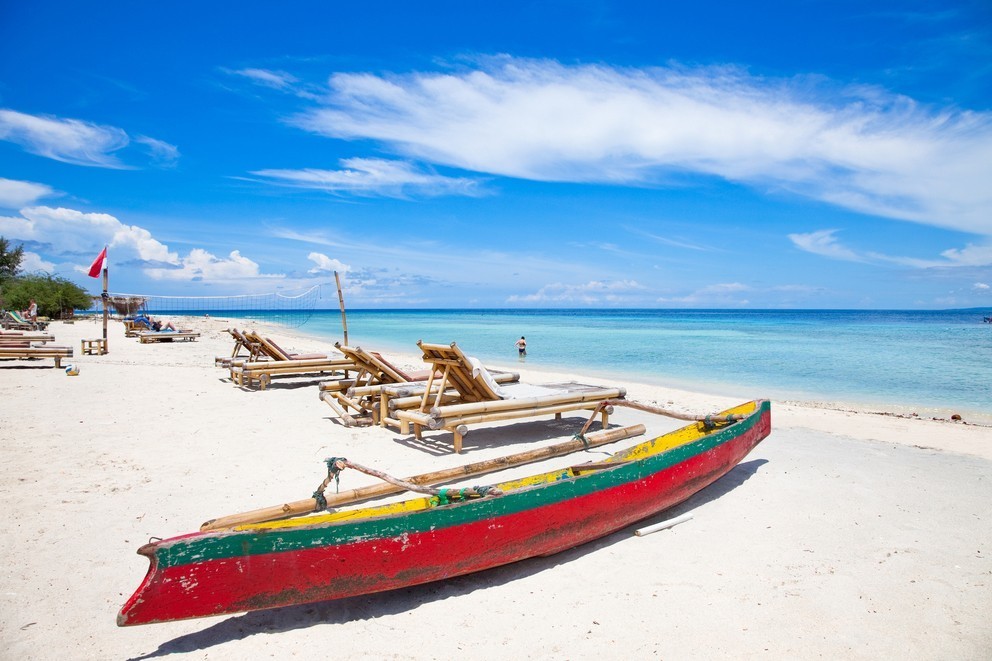 The most convenient and reliable way to get to the Gili's from Lombok Airport is to book a private boat and speed boat package with us. The driver will be waiting at the arrival gate with your name written on a sign to take you to Teluk Nare Harbour in a private (but affordable) air-conditioned car. It takes approximately 1.5 hours drive to reach Teluk Nare, once there the driver will walk you down to the captain and speedboat waiting to take you across. Then it's just a short 10-15-minute boat ride to the Gili's. The only thing you need to decide is which of the three jewels of the ocean you want to visit first.
Each Gili Island has its own appeal and charm whether your looking to party, relax or a bit of both. No matter which island you choose, they all exhibit stunning beaches, crystal clear waters and some of the best diving and snorkelling opportunities in the region. So, what are you waiting for, book your trip to tropical paradise today. To book simply fill in the search box on top of this page.
Lombok Airport to Gili Trawagan
Gili Trawagan is the largest and most visited of the Gili's and has the reputation as the "party island". Once a popular backpackers destination it has since been developed catering now to a more upmarket crowd, from hip guesthouses to luxury resorts offering travellers all the comforts of home. There's plenty to keep you entertained from a bustling string of lounge bars, remarkable restaurants, cool reggae joints and of course lots of dive schools. Have a look at the table below to see how long the travel time is from Lombok Airport to Gili Trawagan.
Lombok Airport to Gili Air
Gili Air is the closest island to Lombok making it easily accessible, especially now with the fully operational International Lombok Airport. Gili Air is said to have the best of both worlds with enough happening on the island to keep you entertained but keeping that idealistic island atmosphere travellers are looking for. It is also said that Gili Air has the best beaches of the three Gili's and along the east coast you can experience top snorkelling just offshore. You can easily book a transfer from Lombok Airport to Gili Air by using the search box at the top of this page.
Lombok Airport to Gili Meno
Gili Meno is the smallest and the most peaceful of the Gili's with a population of just 400. Lying in between its more developed neighbours Gili T and Gili Air, Gili Meno gives you the Robinson Crusoe experience. This small tropical paradise is blessed with gorgeous beaches, serene nature and superb diving opportunities. Gili Meno is the perfect island for couples looking for nature and romance. Most of the accommodation is along the east coast of the island and is a mix between cute beachfront bungalows and homestays. If relaxing on the beach with nothing but the sound of the waves in the background sounds like heaven, then Gili Meno is the island for you. From Lombok Airport to Gili Meno the quickest and easiest way to get there is to book a land transfer and speedboat package by using the search box above.
Arrival
point:

Gili Air

Gili Meno
Gili T
Lombok Airport

Departure
point:

Travel
Time:

Travel
Time:

Travel
Time:

Travel
Time:
Gili Air
x
5 mins

10 mins

2h 5 mins

Gili Meno

5 mins
x
5 mins
2h 5 mins
Gili T
10 mins

5 mins

x
2h 10 mins

Lombok Airport

2h 5 mins
2h 5 mins
2h 10 mins
x