Kuta to Gili Trawangan
In recent years, Kuta on Lombok became a perfect hideaway for many tourists wanting to escape the crowds in Bali. This small village is surrounded by unspoiled nature, a beautiful coastline with many nice beaches and good surf year-round. If you are visiting Lombok to have a nice beach holiday and are looking for a great place to stay, then the Kuta area is the perfect place to base yourself.
Wanting a little more action and excitement, then you should head to Gili Trawangan, one of the neighbouring Gili Islands. Located just north of Lombok lie three jewels of the ocean, Gili Trawangan, Gili Meno and Gili Air. Gili Trawangan is the liveliest and most developed of the three, with plenty of great places to eat, drink and party. There's also an abundance of accommodation to choose from to suit any budget, from luxury villas to cheap bungalows. And perhaps best of all: No motorized traffic!
From Kuta you can easily access Gili Trawangan, you only need to book a private car and boat transfer by using the search box on this website (see top of the page). It will take only 10 minutes to reach Gili Trawangan from Teluk Nare Harbour on Lombok by speedboat. The driving distance from Kuta on Lombok to Teluk Nare is around 2 hours depending on traffic. Gili T is well known holiday destination for many travellers who decide to visit Bali or Lombok and its surroundings. This island is a perfect getaway not only for backpackers but also for those looking for luxury. So, if you're up for having fun in tropical paradise and partying the night away book your trip today to Gili T. To book simply use the search box at the top of this page.
Still want to visit more islands in Indonesia but like a quieter holiday, you should then head to Gili Air or Gili Meno.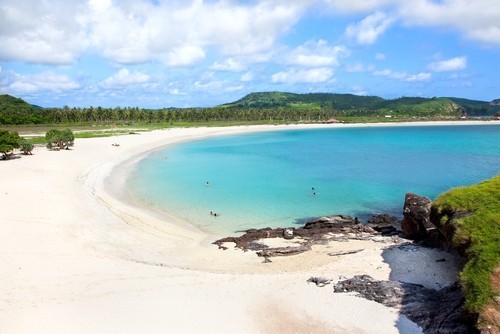 Travel distance from Kuta to Gili Trawangan by car and speed boat
Arrival
point:

Gili Air

Gili Meno
Gili T
Kuta

Departure
point:

Travel
Time:

Travel
Time:

Travel
Time:

Travel
Time:
Gili Air
x
5 mins

10 mins

2h 5 mins

Gili Meno

5 mins
x
5 mins
2h 5 mins
Gili T
10 mins

5 mins

x
2h 10 mins

Kuta

2h 5 mins
2h 5 mins
2h 10 mins
x