Gili Trawangan to Gili Meno
Book your transfer from Gili Trawangan to Gili Meno simply by using the search box above.
Gili Meno is one of the smallest islands from the Gili islands. Comparing Gili Meno to Gili T, this island is much quieter and perfect for couples or those needing some decompression from the nightlife on Trawangan. Gili Meno offers travelers stunning white beaches and a laid back, rustic environment.
This island is a perfect getaway for honeymooners and families. Different accommodation options are available, from beach bungalows to luxury villas. Snorkelling right off the beach among the coral, you're almost guarunteed a sea turtle sighting.
Gili Trawangan has the best diving schools with a wide number of professional dive centers offering dive courses from beginners to experienced. If you decide to spend more than a day on Gili T, it is highly recommended to book accommodation in advance. The wide range of bars and restaurants offer everything from traditional Indonesian and international cuisine to fresh seafood, junk food and BBQ's. Gili Trawangan offers many great things to do besides diving, such as: Yoga, surfing, snorkeling, horse riding, fishing trips and even fitness. The main draw is of course the beaches and energetic nightlife.
If you are on Gili T and you wish to visit Gili Meno, you can easily access this island by booking a private speed boat with us. All you need to do is to make a search from Gili T to Gili Meno at the top of this page. Select your preferred time and amount of people. Once you have made your booking, you will receive your e-tickets from us straight away.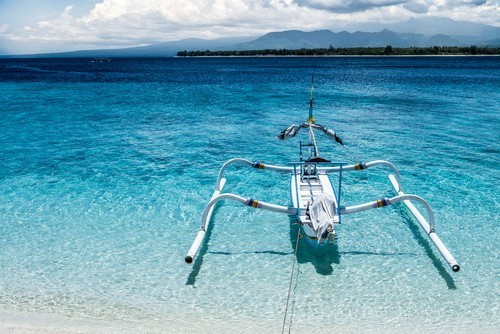 Travel distance from Gili Trawangan to Gili Meno by speed boat
Arrival
point:

Gili Air

Gili Meno
Gili T
Teluk Nara

Departure
point:

Travel
Time:

Travel
Time:

Travel
Time:

Travel
Time:
Gili Air
5 mins

10 mins

5 mins

Gili Meno

5 mins
5 mins
5 mins
Gili T
10 mins

5 mins

10 mins

Teluk Nara

5 mins
5 mins
10 mins