Gili Trawangan to Gili Air
To book your transfer from Gili Trawangan to Gili Air and check prices please use the search box above. The Gili islands are swiftly becoming famous among the most popular destinations in Indonesia. There are no cars or other motorized vehicles on these tiny tropical jewels, so you can be assured of a truly laid back vibe. You can easily move from one island to another by taking a public boat or you can pre-book an afordable private speedboat on this website. Gili T is located only 15 minutes away from Gili Air by speedboat, with Gili Meno in between. With plenty of accommodation options, good places to eat and bars these islands attract many visitors each year. Gili Trawangan is the larger and more popular of the two, due to it's vibrant nightlife and hub of activities. Gili Air is somewhat slower paced, but still offers plenty of ameneties. On Gili Air, enjoy the most gorgeous sunrises over Mt. Rinjani, Lombok, while on Gili Trawangan, the sunsets over Bali are magnificent.
It is highly recommended to rent a bike and explore different beaches and popular places on these islands. If you are on Gili Air and you wish to visit Gili T, you can easily do this by booking a speed boat with us, leaving whenever you like! Gili Air has a relatively quiet nightlife, however, you will definitely find a great place to spend your evening with a cold drink. This is a great option for families or backpackers who want to escape the crowds. Gili Air offers many great activities including snorkeling and diving.
You can book your tranfer here on this website. Simply select your current location and destination you would like to visit. Then choose your preferred time and amount of people. Press search and the results of your trip will show up. Book your transfer and receive immediate confirmed tickets in your inbox.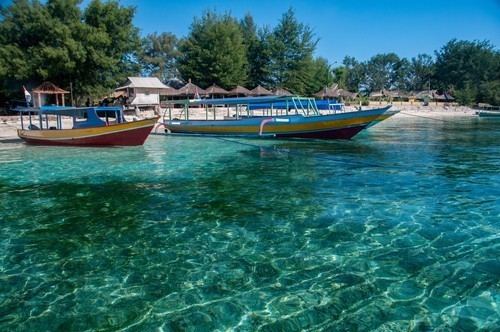 Travel distance from Gili Trawangan to Gili Air by speed boat
Arrival
point:

Gili Air

Gili Meno
Gili T
Teluk Nara

Departure
point:

Travel
Time:

Travel
Time:

Travel
Time:

Travel
Time:
Gili Air
5 mins

10 mins

5 mins

Gili Meno

5 mins
5 mins
5 mins
Gili T
10 mins

5 mins

10 mins

Teluk Nara

5 mins
5 mins
10 mins