Gili Trawangan to Bangsal
To book your transfer from Gili Trawangan to Lombok and check prices please use the search box above.
Bangsal is a small but busy port located in northwest Lombok, used mainly for public boats between Lombok to the Gili Islands as well as fast boats to and from Bali. You can easily access Bansgal harbor by taxi or shuttle bus from Mataram, Senggigi or Lembar. The main reason to pass through Bangsal is to take a cheap local boat to the Gili Islands, however if you prefer to avoid the hawkers, local taxes and having to barter a price amid the hustle and bustle of the harbour, we recommend pre-booking a speed boat with us to/from the much quieter Teluk Nare bay, a few minutes down the coast.
A public boat transfer from Bangsal to Gili T will take around 45 minutes and doesn't leave according to a rigid schedule, usually only departing when full. By comparison, a speed boat service makes the journey in much less time, taking just 10-15mins and departing whenever suits you.
Gili Trawangan is well known destination among travelers and most visited island from all the Gili Islands. Backpacker travellers began to discover Gili Trawangan in the 1990's. This island has changed a lot since then from a quiet fishing settlement to a well know party island. It is highly recommended to book your accommodation in advance during the high season. On Gili Trawangan, you will find many great places to eat and drink. The local restaurants offer travelers traditional Indonesian, international cvuisine and everything in between, along with the freshest seafood and beachside BBQ's. Gili T also offers fantastic scuba diving, surfing, snorkeling and boat tours. Trawangan is well known holiday destination for many travelers who decide to visit Bali and its surroundings. You can easily access Lombok from Gili T all day along using our featured services.
If you want to go from Gili Trawangan to Lombok, we actually advise avoiding Bangsal and opting to take a speed boat to Teluk Nare bay instead. This avoids the chaos of the harbour and is actually quicker and cheaper to reach with a private speed boat. From there, a driver can be arranged to any destination on Lombok. This can also be booked using the search box at the top of this page.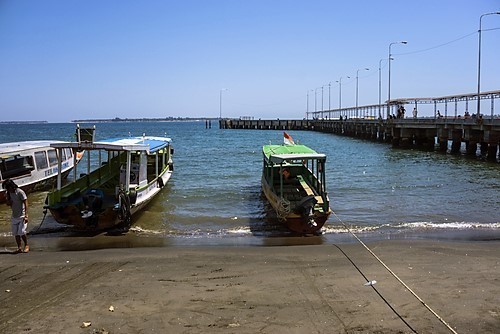 Travel distance from Gili Trawangan to Teluk Nare by speed boat
Arrival
point:

Gili Air

Gili Meno
Gili T
Teluk Nara

Departure
point:

Travel
Time:

Travel
Time:

Travel
Time:

Travel
Time:
Gili Air
5 mins

10 mins

5 mins

Gili Meno

5 mins
5 mins
5 mins
Gili T
10 mins

5 mins

10 mins

Teluk Nara

5 mins
5 mins
10 mins