Gili Air to Gili Trawangan
To book your transfer from Gili Air to Gili Trawangan and check prices please use the search box above.
Gili Air and Gili Trawangan are the more well-known Gili Islands and are also considered to be the livelier islands. With a lot of accommodation and restaurants to choose from you should be able to find several spots on both Gili Air and Gili Trawangan that will suit your needs. For budget travelers such as backpackers as well as luxury travelers there will be enough accommodation and hospitality spots to choose from on both Gili Islands. Gili Trawangan is a bit bigger than Gili Air and on both islands no motorized vehicles are offered nor available. This makes a bike the main mode of transport which allows you to take a fun bike ride around the island in about 1,5/2 hours where you can explore different beaches and lookout points.
If you have baggage with you, you may wish to hire a local pony cart to assist you with the trip to your hotel. If you are taking a day trip from Gili Air to Gili Trawangan or the reverse and you like or want to try scuba diving, don't forget to visit Manta Dive to book an amazing diving adventure. They have a top rated dive center on both islands.
The trip between Gili Air and Gili Trawangan is normally around 10/15 minutes. Make sure to be at the harbour in Gili Air at least 15 minutes prior to departure to check-in and you will be on your way to Gili Trawangan in no time.
On this website you will find the best speed boat tickets to travel from Gili Air to Gili Trawangan.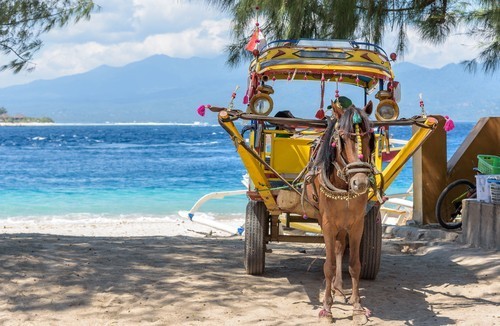 With boats departing between Gili Air and Gili Trawangan several times a day, it is now even easier to book your transfer between these two Gili Islands. Booking a boat from Gili Air to Gili Trawangan can be done for a day trip, simply book a boat early in the morning from Gili Air to Gili Trawangan and back to Gili Air in the late afternoon or early evening.
Gili Trawangan is definately worth a visit for at least one day/night so you can experience the "party island" and have some serious fun. There's a lot happening on the island with many cool restaurants, beach bars and nice accommodation to choose from. Don't forget the stunning beaches and world class diving also available on Gili T. If you are looking to party the night away, Gili T is the place to be, enjoy the vibrant nightlife and full moon parties.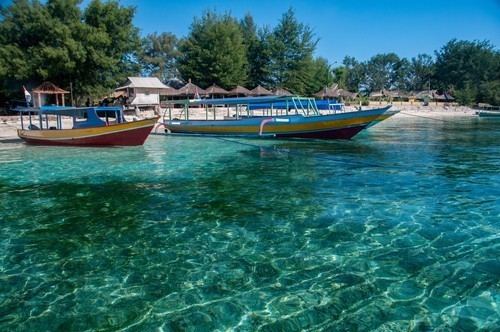 Travel distance from Gili Air to Gili Trawangan by speed boat
Arrival
point:

Gili Air

Gili Meno
Gili T
Teluk Nara

Departure
point:

Travel
Time:

Travel
Time:

Travel
Time:

Travel
Time:
Gili Air
5 mins

10 mins

5 mins

Gili Meno

5 mins
5 mins
5 mins
Gili T
10 mins

5 mins

10 mins

Teluk Nara

5 mins
5 mins
10 mins